Evan's Auto Body Refinishing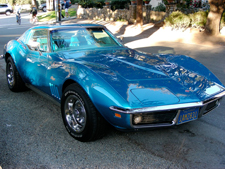 Evan's Collision Center offers several auto body refinishing services for repairing and customizing your vehicle.
Complete Auto Body Refinishing
If your car has developed multiple scratches, paint chips, and small dents, along with fading, your vehicle may benefit from our complete auto body refinishing service. Using digitally color matched paint, a scratch resistant coating, and wax; we restore the shine of your paint job and remove all scratches and chips. We combine the skilled work of our auto body experts with our complete refinishing system technology to make your car look new again. Our auto body refinishing products are environmentally friendly, free of harsh chemicals and strong fumes.
Spray On Bed Liners
Evan's Collision Center applies spray on bed liners to truck beds of any type. These liners offer protection for your truck bed from UV damage, rust, debris, cracks, and anything else Mother Nature can dish out. Using a specially formulated polymer, it permanently bonds to your truck's bed.
Undercoating and Rust Proofing
Evan's Collision Center also offers undercoating and rust proofing for your car's body. The roads pose several threats to your car's well-being, but undercoating and rust proofing with protect your car's undercarriage from moisture, dirt, grime, salt, and rocks. Keep this area of your vehicle free from corrosion and damage. This application needs an hour to dry and overnight to dry completely and take full effect on your vehicle.
Courtesy Cars
If you have places to be while we refinish your vehicle, we offer courtesy cars. Drop off your car with us and take a drive in a brand new car for the day. We'll make sure you get to work and anywhere else you need to go when your car is in our shop.